Hamilton Orthodontic, Hamilton, Dundas, Stoney Creek, Ancaster
Hamilton Orthodontic
Teeth In A Day
Teeth In A day, also known as All on Four (or All on 4), is an innovative new technique which allows an entire arch of failing tooth to be replaced with dental implants in one visit. This treatment allows patients to have the luxury of  permanent teeth with just 4 implants per required arch.  The hopeless teeth are removed, implants are placed, and fixed temporary teeth are fitted, all in one visit.
Teeth In A Day is also done for current denture-wearing patients. The temporary fixed teeth allow the patients to be free from their ill-fitting dentures on the day of placement, and after the implants are healed a few months later, a permanent titanium bridge is placed.
The advantages of the "Teeth in a day" concept include:
require fewer implants
minimal healing
avoid the need for extensive bone grafting
less financial cost
the potential to have fixed teeth in the same day
predictable aesthetics and extremely high patient satisfaction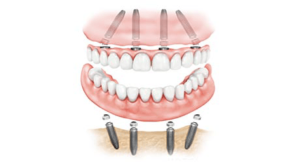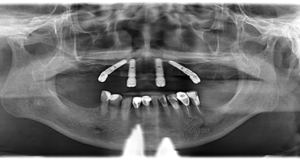 For those who suffer from ill-fitting dentures or mobile, failing teeth, the delivery of stable, natural-looking teeth through dental implants can restore that self-confidence and vitality that has often been lost.